Growth Hacking is a very wide field and is basically about finding experimental and measurable ways of increasing growth. You can increase inflow of new visitors by improving marketing, PR, paid traffic and virality. You can increase the likelihood that these visitors become engaged long-term users by Conversion Rate Optimization and by improving Activation and Engagement. And you can make more money by tweaking your business model by experimenting with different models for how to make revenue.
Across it all there is the question of leveraging a lot of fantastic tools and insights that are out there and focusing on and measuring the right metrics as you go along. Below, we have collected references to a set of resources that we have found very useful, grouped by what aspect of Growth Hacking that you want to dig deeper into.
Getting started in Growth Hacking – general resources
In need of a quick overview of the field? – here are the main guides and sources
If you are just getting started, there are lots of resources that give you the general overview of the field of Growth Hacking. What is the typical Growth Hacker profile? How does a Growth Hacker work and what are the goals and tools in general?
Neil Patel, the co-founder of KISSmetrics, has written a relatively short guide on the different aspects of growth hacking. If you need a first crash course on growth hacking and the Wikipedia article is a bit too short, this is a very good place to start.
---
Many articles and blogposts on the subject of Growth Hacking focuses on quick fixes and quick gains. This interesting blogpost by Brian Balfour from Coelevate, recommends that you instead focus on the process of growth and shows how this process can be set up.
---
Another good place to start is this massive collection of resources that cover all aspects of marketing and online business. It covers a lot of different fields, so we're certain that most of you will find something valuable in there.
---
This site is headed by Sean Ellis, who is credited with coining the term "Growth Hacking". The site offers a list of resources and discussions on GH and is updated daily with fresh content.
---
Growthhacker.tv has a huge number of video resources covering many different topics. If reading blogs or articles isn't your thing, this is the place to go (it should be the place to go, in any case).
---
If you are new to growth hacking or simply want to know which tools to use take a look at this blog post. Piotr Koczorowski from Usability Tools has gathered what he calls an ultimate list of resources that a Growth Hacker needs in their operations.
Search Engine Optimization
Insightful and instantly actionable SEO resources to help improve your ranking
The world of SEO is both broad and deep, consisting of an abundance of resources and tools where it's quite easy to lose the overview. For those of you in need of some practical machetes to cut through the search engine jungle, we've listed 4 super-actionable resources and tools (for any skill level!) that will help you dominate search results, better understand user acquisition, and take instant optimization action. Without staring yourself blind on query reports and spending hours on beginners guides!
OpenSiteExplorer is a great tool to use if you want to quickly figure out how you (and your competition) are doing when it comes to your domain authority, page authority, and how many root domains are linking back to you (and where they're coming from!). You can compare up to five URLs at a time, so it's a great tool to quickly visualize how you're measuring up against your competition and, more importantly, figure out what kind of SEO strategy you should employ to beat them at their game!
---
There's nothing more mind-numbing than going through your meta tags and making sure you're avoiding keyword density on every page on your website. Right? Have no fear, Backlinko's here! With his informative yet easy to digest infographic, Brian Dean takes you by the hand and helps you through a checklist of on-site optimization steps that you can implement on your website straight away.
---
Another great search engine, this time focusing on what content is actually performing best in regards to any topic or competitor. What's being shared on Facebook, Twitter, Pinterest? What are people talking about? What kind of content is hitting all the right buttons? And why shouldn't you take those topics, make them your own, and soar to new heights when it comes to your content promotion? Buzzsumo provides you with inspiration for reverse engineering and a deeper understanding of proven content within seconds.
---
The days of AdWords Keyword Planner are over – sort of. In some ways it still proves to be a valuable source for keyword ideas (here's a free tip: try typing in the URLs of your competitors in the landing page field, instead of looking at the keyword idea suggestions that your competitors are looking at, too). If you're ready to farm keywords somewhere else, Neil Patel offers a plethora of lesser used sources that instantly provide you with more unique, higher value keywords that are sure to improve your organic traffic.
---
Conversion Rate Optimization (CRO)
Just starting on CRO? – nail the lingo, tools and best practices fast here
If you have a fair amount of volume, it is super interesting to make sure that the users that arrive at your service (be it through organic, paid, viral or other channels) actually convert and start using the service. There is a wealth of resources out there that help you optimize conversion in your funnel.
If you're just getting started, this guide from Sean Ellis' Qualaroo is very nice place to start. It covers the why and how and goes into a lot of detail in the planning and execution. It covers landing pages, user experience and all the necessary tools.
---
One more, very comprehensive guide that covers understanding your market, learning the analytics tools, writing good copy and using compelling graphics.
Activation and Engagement
Activation and engagement may be the most important yet fuzziest discipline of them all. Here are our recommendations for specific and actionable reading.
Whether you call it engagement or activation, it's all about maximizing the value that users experience using your service. It's a lot about understanding what the users should do early on to become "activated" and about knowing that IF your users do this and have that experience, they will show long-term engagement and be more likely to have a long life-time and hopefully also be payers.
In this video, Josh Elman who used to be growth lead for Facebook, LinkedIn and Twitter talks about the tools these companies used to drive massive growth to their sites. The video offers a good and informative insight in to what the biggest players in the field are doing to grow their businesses.
---
The reason you want to increase activation and engagement is that you want to improve your business. A first key activity, then, is to find out what kind of engagement that truly drives your business. A lot of the key players and world-class growth companies have found just that: The engagement metric that truly drives the business. Read here about Facebooks Seven Friends and what Dropbox, Twitter and LinkedIn have found drives their growth.
---
Dave McClure has a wonderful framework for discussing the various phases in the funnel and the metrics that matter for the growth of a startup business. We have benefited a lot from the idea of Activation – it does not end when users come to your site or sign up. You really need to give them a good experience – to activate them – before you can hope to sell to them, make them viral and make them come back again and again.
---
We have found our engagement metric in SimpleSite. Unlike in many other services, it's not in the form of a threshold (7 friends in 10 days), but rather a sum of the number of interesting actions taken in the first three days. Read more about the data and analysis that led us to this conclusion.
---
CRO and Engagement Optimization together are what maximizes the business value of the traffic that you have. You ARE spending resources on getting traffic (be it Paid Search, intensive SEM, active PR, viral product development, …) and getting CRO and engagement right ensures a high ROI on those traffic-generating efforts and expenditures. And that in turn makes your traffic generating efforts viable and allows you to scale on a Growth Engine that works.
A/B experiments
This is easy in principle – just split and test. But be sure you know how to get significant results. Read here how.
A/B experiments are a powerful tool in learning what works. You can split the user experience in two (or more) and see how the users exposed to the two variants react to them. That may be in the form of better conversion, more engagement or any other metric that you know drives your business.
Be very aware, though, that you need enough volume to get statistical significance.
Our 10-1000 rule of thumb is: "It takes a thousand events to measure 10%". Basically, if you want to measure a 10% improvement in the number of sign-ups you get on the B-track in an experiment, you need about a thousand sign-ups on both tracks. So if you have 10 sign-ups a month, don't even bother to A/B test if you are looking for 10% effects. If you have a total of 10.000 sign-ups a day, you can find a 10% increase in a few hours. If you want to find a 10% increase in something far down the funnel, like sales, you need a thousand sales on each track, something that can take a fairly long time, if you are not routinely making thousands of sales per week or month.
In conclusion: How long you have to measure or whether it makes sense to do A/B experiments at all depends on the volume of the outcome you are trying to measure. And when it does make sense, A/B experiments can teach you a lot about improvement.
An in-depth guide that comprehensively covers all the basics. The whys and the hows, the organizational challenges and the wins to look for.
---
It is really – as in REALLY – important that you understand the meaning of significance. It is very easy to hack some A/B test together, run it for a while and then conclude some 10% improvement. However, unless there is enough data, that result may be totally random and unfounded and may lead you to make uninformed and even wrong decisions. So use a tool that shows you the significance or be able to calculate it yourself. The significance calculator linked here does the calculation for you and even sheds some light on the underlying math. You may also want to internalize our 10-1000 rule above. It is a great help in making qualitative assessments as to whether an experiment makes sense doing or has a significant result.
Metrics and analytics
Move from vanity metrics to metrics that actually drive improvements in your business
Metrics are key to understanding what you are doing and whether you are improving stuff or just standing still. It is vital to discern between vanity metrics and real metrics. Vanity metrics are fine on slides and typically look very impressive. Real metrics tell you if you are improving and growing your business. There is a lot of best-practice on which real metrics to measure, for which types of services and at which time in the life of a business.
This is a quick introduction to some of the metrics that you need to know about and measure in order to successfully grow your business.
---
This is the definitive go-to for a good overview of how to create a relevant Dashboard for a SaaS startup. All the relevant metrics organized in an easy overview. Good for you and good for sharing with your board. Chemically cleansed for vanity metrics.
---
– including Nordic Growth Hackers!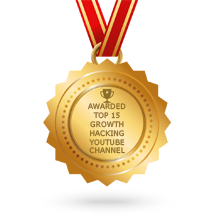 ---
Do you know something we don't?
If you come across any resources that you think are missing from this list, feel free to shoot an email to christian@simplesite.com.